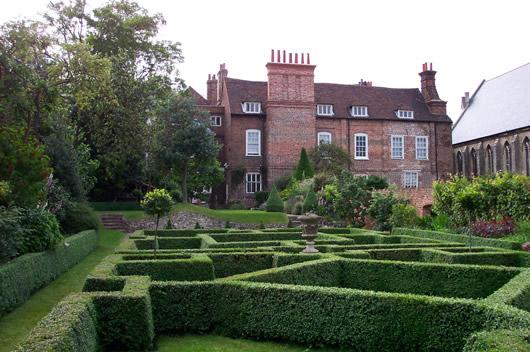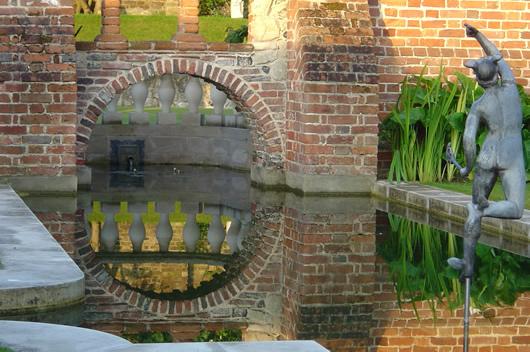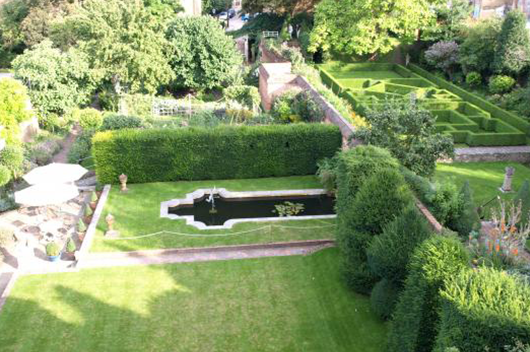 Restoration House has an unusually large walled garden of some ¾ of an acre, the same extent as in the 1864 OS map. This is an unexpected haven just 100 yards off the old High St. As well as boundary walls the garden is divided length ways by a central brick wall itself pierced with archways and a formal pond connecting the two parts.
These two parts are made up of formal and productive areas. A large boxwood parterre dominates the Southern garden flanked by an herbaceous border and a picturesque half sunk green house roofed in glass scales, while opposite a long shrubbery nestles in the shade of the wall. An upper lawn sweeps back towards the house with a mixed border of intricate planting. Between these the level drops to a long Portland stone pond, its balustrade over hung with fruiting quinces, adjacent to which is an established Muscat vine.
Walking through a brick archway one can enter an enclosed Cutting garden which supplies the house with flowers for arrangements. A vegetable garden and second green house close the eastern vista.
Walking back towards the house the level expanse of Yew Court, the topiary on one side cast long shadows, while in an opening of the hedges on the other side entry is gained into a flourishing Mediterranean pot garden with giant Echiums and Citrus under swags of Wisteria.

The garden as it stands has been created over the past decade incorporating mature trees and archaeological features. Reclaimed local materials and traditional building skills and possibly most important of all, lime mortar, have been used throughout.

The garden is maintained to the utmost and continues to be developed by a dedicated team of gardeners and craftsmen.